A trip to Italy
If there's such a place that I'm certain I'd fall in love with even before actually getting there, this is it. The only problem I had was that I wish I could've stayed there for longer.
Text and photographs by
Jacky Liu
. Photographs were taken with the Fujifilm X-T1.
11
Days in Italy
May 1, 2014
– May 12, 2014
Hong Kong ✈ Milano → Venezia → Firenze → Cinque Terre → Pisa → Roma → Città del Vaticano → Milano ✈ Hong Kong
When I booked our flight to Milan many months ago, unlike many others it was not for the museums, for shopping, nor for the Italian cuisine. It had always been my dream to go to Venice, this uniquely exotic place that, some say, is quickly sinking into the sea. And no, I don't want to be going to The Venetian (again). I had to experience Venezia in-person. There also happened to be a great deal on at Qatar Airways. And unbelievably so, I was set.
"I was advised to book everything I can before we left for Italy, and it turns out this was a great piece of advice."
I was advised to book everything I can before we left for Italy, and it turns out this was a great piece of advice. It saved both time and effort lining up for tickets for the train or for the sights, mainly the museums, and it was easy-to-do by phone or through sites like Booking.com and Trenitalia. It also meant I could plan ahead and pack many more attractions into my itinerary. I've always had the mentality to 'get the most out of places' when traveling.
Our flight arrived in to Milan around noon, and we were able to spend a quiet, relaxing day around the city-center before spending the night there. Early next morning we boarded a train to Venezia, and after checking-in to our hotel in Mestre (where there are better choices to stay in my opinion), we got on a convenient 10-minute train ride to Venezia S. Lucia.
Then it started pouring-it-down with rain.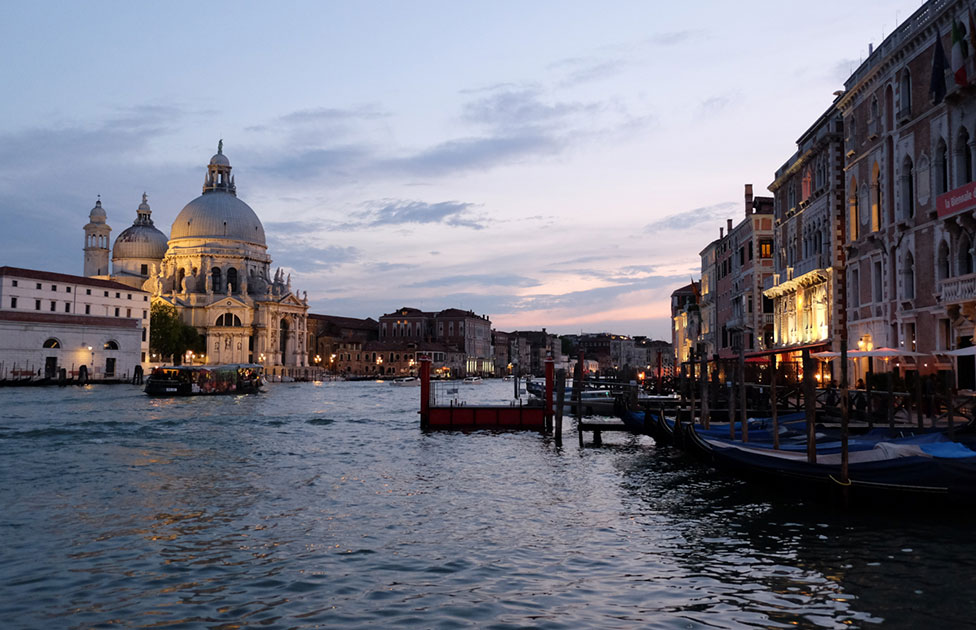 Tip
Gelato
Throughout Italy, be sure to have as much gelato as you possibly can. Try all the flavors. I can't recommend it more, it's that good. Perhaps start with these places below.
As we made our way into the city, my grey sweater had become dark grey; even with an umbrella we were completely drenched. However as miraculous as this may sound, when we made it to Piazza San Marco, the rain just stopped. We managed the long line-up and climbed the Campanile di San Marco, where I (given the circumstances) had simply the best view of Venice. I was blown-away, quite literally too; the wind up top was gusty and freezing.
"We managed the long line-up and climbed the Campanile di San Marco, where I had simply the best view of Venice."
When we left the piazza the rain not only resumed, it got worse. I made a few wrong turns and so I became terribly lost in the district of San Marco (I was trying to get to the Ponte dell'Accademia). Fortunately we did managed our way to the Canal Grande, where we embarked a vaporetto and exhaustedly made our way back to Mestre.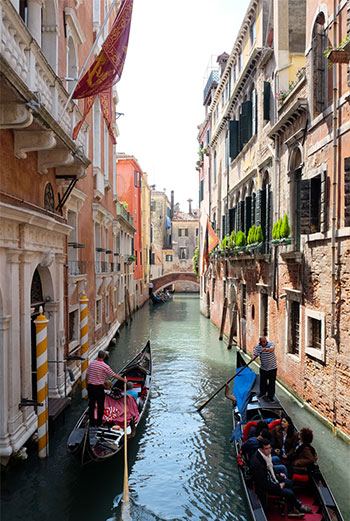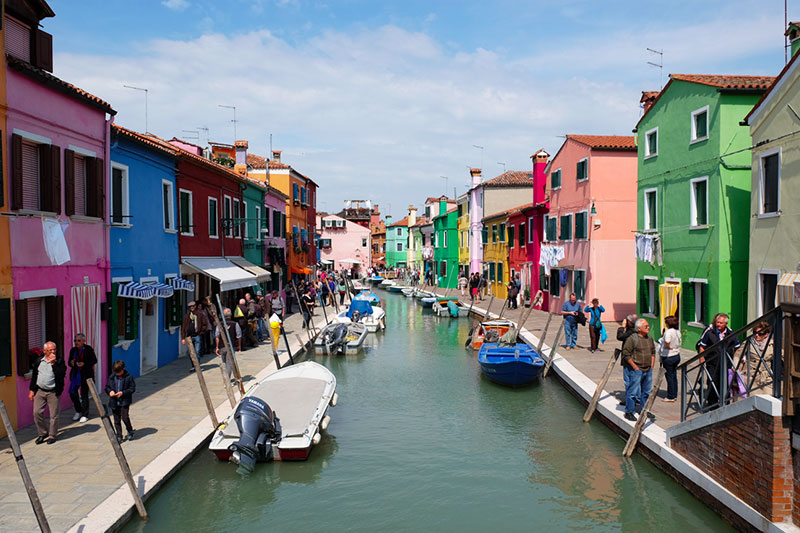 Highlights
Venice
Palazzo Ducale's Secret Itineraries Tour
A 90-minute guided tour exploring exclusive areas of the palace such as the Chamber of the Secret Chancellery, and the Piombi (attic prison).
Burano
A small, beautiful island 40 minutes off of Venice by vaporetto, known for its brightly painted houses along its canals, and delicate lace-making.
We spent the next morning back at Palazzo Ducale for the fascinating Itinerari Segreti (Secret Itineraries) tour we booked in advance. There we were taken through to some of the rooms, corridors and chambers that are otherwise closed to the public. It was also very intriguing to listen to the guide talk about stories and the history of the Republic of Venice.
"… it was immensely worthwhile losing ourselves in Venice. It was all part of the experience."
After moving past the rest of the palace, we ventured our way to the small island of Burano, exploring alleys and finding wonderful surprises along the way. In fact it was immensely worthwhile losing ourselves amongst the alleys and open spaces in Venice. It was all part of the experience.
Burano is a gorgeous, picturesque island is filled with bright and colorful houses along the canals. We had a pleasant afternoon stroll through the island and thoroughly enjoyed its tranquil atmosphere and beautiful scenery. Well worth the trip.
We made our way back by vaporetto to admire the incredible sunset at Piazza San Marco, and caught our last glimpse of the romance and beauty of Venezia.
Food
Florence
Dei Frescobaldi
We had a memorable dinner here with great ambiance and an excellent wine list. We had a delicious eggplant caponata, spaghetti and beef fillet.
Florence for me was a mesmerizing city to be in. Besides being able to see Michelangelo's David and roam the Uffizi Gallery, I think the city itself disperses an enormous sense of culture and majestic beauty. It was also, probably, due to the fact that everything was of walk-able distance from one another. It allowed me to become immersed in the city's streets, ambience and architecture.
The weather was wonderful when we arrived, so we decided to have lunch at a small park before heading into the Galleria dell'Accademia. We spent another few hours in the Uffizi Gallery that afternoon (I would recommend a guide or at the very least an audio-guide to truly appreciate the significance of works there), and so we were done with the museums and be on our way to explore the city itself.
That evening after dinner, we went to the Ponte Vecchio to watch the sunset over the Arno River. The shops were closed then, but there were still many people around talking, enjoying the scenery, and savoring the music being played by the guitarist on the bridge.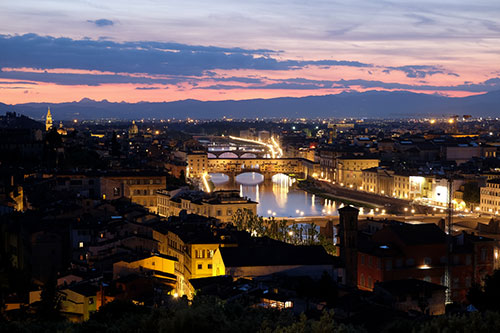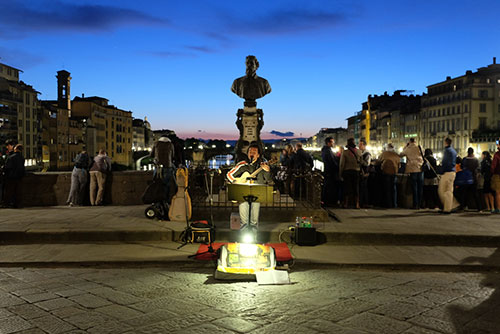 Highlights
Florence
La Cupola del Brunelleschi
A relatively steep climb of over 450 steps takes you up inside walls of the Basilica di Santa Maria del Fiore, through the interior of the dome, and up to the top for an extraordinary 360-degree view of Florence.
Piazzale Michelangelo
Here you'll find a spectacular panoramic view of Florence. Go for the view upon sunset by bus or a short hike up the hill. It'll be truly worth it.
The next morning we set off for a quick bite at the Mercato di San Lorenzo, before heading to the Basilica di Santa Maria Novella, and the Officina Profumo-Farmaceutica di Santa Maria Novella nearby. Inside one of the world's oldest pharmacies (founded in 1612), we not only found exquisitely packaged aromas, cosmetics and perfumes, but the interior décor is also gorgeously lavish, certainly one-of-a-kind.
Now a visit to Florence wouldn't be complete without going to its most important landmark, the Basilica di Santa Maria del Fiore. The neo-gothic façade is one of, if not the most delicate and spectacular I've seen. It is hard to imagine that the façade itself was not completed until only around 130 years ago. Inside I was able to admire the unbelievable frescoes by Vasari and Zuccari on the interior of the dome. We also opted to wait in line for almost two hours to ascend the Cupola del Brunelleschi for an extraordinary 360-degree view of Florence. It was absolutely worth it.
"… one of the most magnificent sunsets in the world…"
As night approached, we boarded a bus to Piazzale Michelangelo to seek one of the most magnificent sunsets in the world upon a panoramic view of Florence, and surely it did not disappoint. I was fortunate not to have a crowd of tourist around and the weather was perfect. It was simply breathtaking.
We ended our exhilarating day (and our two days in Firenze) with a long walk back to the hotel, and a juicy Florentine steak along the way.
Tip
Cinque Terre
Consider getting the 'Cinque Terre Card Treno' that grants you access to all trekking paths (a must if you want to get the best view of Vernazza) and unlimited use of regional trains connecting the five villages and to La Spezia/Levanto.
Before we made our obligatory visit to Pisa, we made a stop at La Spezia to board a train for Riomaggiore, the first of five small coastal villages in Cinque Terre. The villages are beautifully unique, with colorfully painted houses (historically for fishermen to spot their house easily) perched along the steep hillside. Each village is connected by a short train-ride.
Riomaggiore felt the most compact out of the three villages we went to. We're able to walk right down to the quay at the waterfront that's right next to a tiny beach. The next village along the coast is Manarola, which feature more shops and restaurants along the street that runs towards the harbor. You can even walk along the coast to get a stunning view of the village from afar. Vernazza is perhaps the jewel of Cinque Terre for its proper harbor. Its charming piazza is also lined with restaurants and bars, but we decided to sit along the breakwater, with a gelato in-hand, to admire the view.
We were advised not to spend too long in Pisa, so we returned to Pisa in the late afternoon and made our way to the Piazza dei Miracoli to visit the cathedral, the Torre pendente di Pisa (Leaning Tower of Pisa) and the Battistero di San Giovanni. We checked off the compulsory 'photograph holding up the leaning tower' to-do and sat down for dinner at a restaurant near the base of the tower.
As the sun began its descent upon Pisa, we spent a few more moments at the piazza before making our way back to the hotel. We traveled through Palazzo della Carovana, along the shopping area of Borgo Stretto, over Ponte di Mezzo (for yet another magnificent view of the sunset over the Arno River, same river that passes through Florence by the way), and Corso Italia. Sadly the shops were now closed and there was nothing much else to do in the city.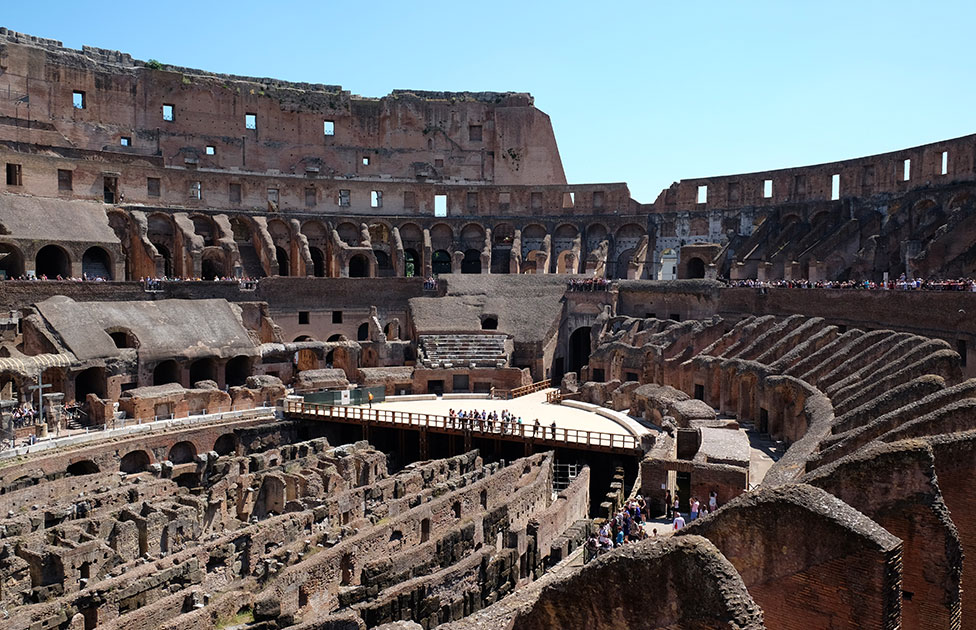 Stay
Rome
B&B Biancagiulia
Our host Pietro was welcoming and helpful, and the place was very cozy. It also had a nice, well-equipped kitchen. And best of all, our room had a beautiful balcony overlooking the central courtyard.
Tango Hotel
We were excited to stay here for its unique rooms that have 2 floors, bathroom below and stairs leading up to the bedroom above. Did I mention it was only a few blocks away from Piazza San Pietro?
"With the Roma Pass we were able to skip the long lines and get into the Colosseo free."
Rome is an enormous city immersed in history and amazing sights that are equally important and fascinating, so needless to say, we have allocated the most days here. After dropping our bags off at our B&B near Stazione Termini, we headed to Piazza di Spagna. And as we would have expected, it was jam-packed with people. Disappointingly Fontana della Barcaccia was being restored so we didn't get to see the steps in its full majesty.
Through Via di Condotti we made our way towards the amazing Fontana di Trevi. There we spent some time admiring the beauty of the fountain, with a crowd surrounding us of course (and a blazing sun). Then we left for the Pantheon, Piazza Navona, and tried our luck for some food at Mercato di Campo dè Fiori. Unfortunately it was mostly closed (as it was a late Wednesday afternoon) so we headed to a supermarket and had picnic at a park next to Piazza Venezia instead. Not bad with a great view of Altare della Patria.
There was still time left in the day, so we decided to make our way to the Colosseo to watch the sunset there. We would return to go inside the next morning.
With the Roma Pass we were able to skip the long lines and get into the Colosseo free. Inside I couldn't help to stop and marvel at the engineering and scale of this iconic architecture. It is quite surreal to just be standing inside. We then went on to explore the Foro Romano, which was a bit of a walk to wander around. It is also in ruins, so in contrast with the colosseum, you'll need to imagine to apprehend the scale of it all to be genuinely impressed.
Through a brief stop at Michelangelo's Piazza del Campidoglio on Monte Capitolino (making sure to grab a great view over the ruins), we passed by Circo Massimo (which was more like a park nowadays) to reach Terme di Caracalla. It may not be as popular as other sights but it sure is equally as incredible. The space is enormous (certainly for a public bath back in those days), and I was able to catch a glimpse of its beauty through scattered pieces of remaining mosaics.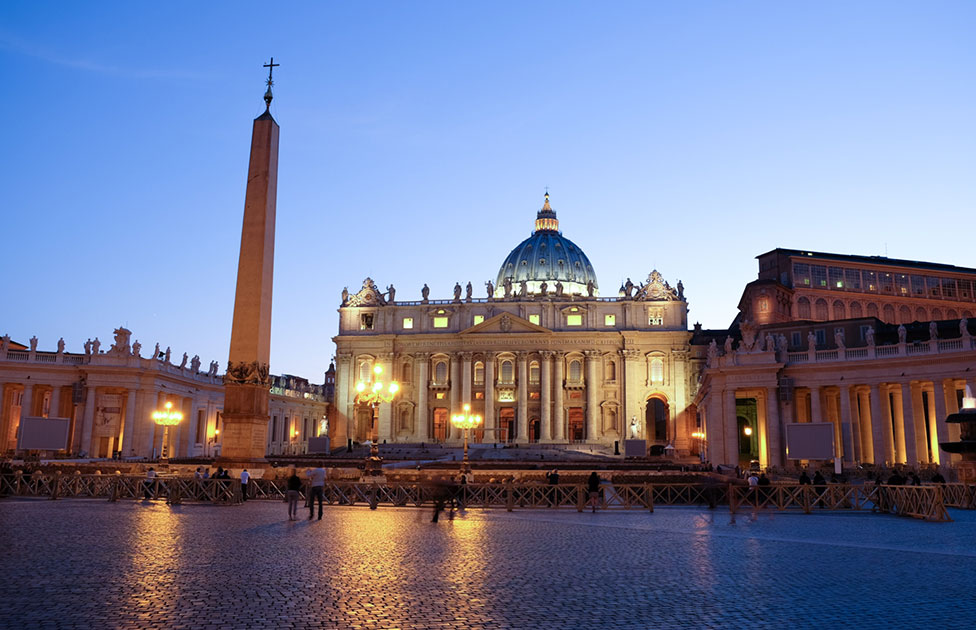 Food
Rome
Trattoria Vecchia Roma
Recommended by our host Pietro, this place was still packed when we arrived late at night. Seemed very popular amongst locals. Simply delicious.
Ris Cafè
It is here that I had probably the best bacon cheeseburger in the world. If you're in Rome and need a break from Italian food, look no further.
The Basilica di Santa Maria Maggiore is a marvelous church that's just around the corner from our B&B, so the next morning we made a brief visit before walking over to the much more subtle San Carlo alle Quattro Fontane. It may seem like a tiny church, but inside it is transformed into a light and airy space, not to mention the stunning coffered dome. Quite a gem amongst more tremendous landmarks in the city.
In the afternoon we spent some time moving to another hotel in the Vatican area, and went on to stroll through the amazing Piazza San Pietro, Ponte Sant'Angelo, Piazza Cavour and of course back to the piazza for a breathtaking sunset. The next day we returned, but had to take a long way around, to go inside the Basilica di San Pietro. There must've been a service with the Pope because the crowd was unbelievable, and we were terribly fortunate to be able to get into St. Peter's in-time, because when we exited at around noon the entrance was already closed.
Musei Vaticani was also quite overly-crowded (reserved tickets comes extraordinarily handy here). It was, to simply put, stunning but tiring. I wasn't able to wander as freely as I would have hoped. I could've also spent hours in the Cappella Sistina to appreciate the astonishing works of Michelangelo, but the crowd was distressingly overwhelming.
In the late afternoon we boarded a high-speed train back to Milan.
As our trip was coming to an end, we spent the morning visiting Santa Maria delle Grazie for Leonardo da Vinci's The Last Supper (we were only allowed 15 minutes inside), and shortly after, taking the tram to the prestigious San Siro for the stadium tour (I wish I could be back for a Serie A match someday). In the afternoon, we were back at the awe-inspiring Duomo di Milano and the exquisite Galleria Vittorio Emanuele II to admire their absolute beauty. I was surprised that the interior of the duomo, though equally impressive, is in such contrast to its exterior. We spent the rest of afternoon walking around the tranquil Via Monte Napoleone and Via della Spiga area, with gelato in our hands of course.
And yes, I've fell deeply in love with this country.
The material appearing on this page, unless noted otherwise, are the exclusive property of its author and/or owner, and may not be copied, published, printed, reproduced or otherwise disseminated without prior written permission.
There are 2 comments.
Michele posted:

Hi Jacky,

very nice picture, very nice trip. You covered lots of beautiful places but since I am from the South of Italy I have to say you miss something. :) If you plan another trip to Italy, I would be glad to take you around the "meridione". :)

Bye,
michele.

Jacky posted:

Hi Michele, thanks for your compliments! I just didn't have the time to go that far south, but I'll be sure to make a visit the next time around. Places like Naples, Positano, Lecce and around Sicily are all very attractive. Take care!