Images updated on October 29, 2008.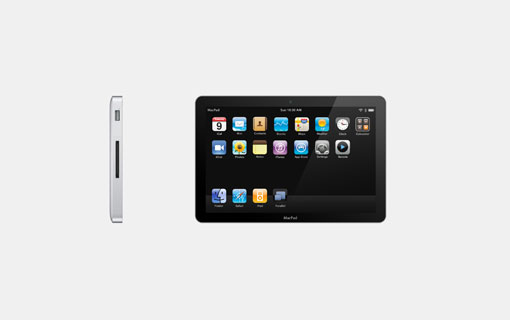 "MacPad is a revolutionary new product that completely revitalizes mobile computing. It is an ultra-portable device with an immense amount of technology, and a tremendous amount of computing power. It is a fusion of the mobile experience from the iPhone, with the functionality and practicality of the MacBook on Mac OS X. MacPad is the future of ultra-portable computing.
The MacPad provides all the necessary features of an ultra-portable in less than 30% of the volume of the MacBook Air. Now that is impressive. Not only is the MacPad optimized for Intel's Atom platform, it is optimized for your mobile lifestyle. Built-in iSight camera and microphone for visual conferencing through iChat, built-in 802.11n compatible AirPort Extreme Wi-Fi, Bluetooth 2.1 + EDR, A-GPS, Micro-DVI port and two USB 2.0 ports, accelerometer and ambient light sensor, this device can handle just about all of your mobile technology needs.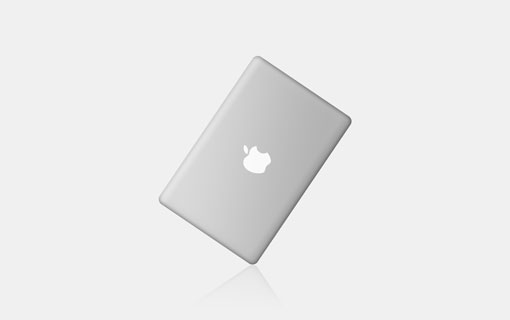 The gorgeous 8" Multi-Touch display broadens every aspect of the iPhone experience through a completely new mobile platform, Mobile OS X. This is in essence the equivalent to the much familiar Unix based Mac OS X environment, hidden beneath the full Multi-Touch interface developed for the iPhone. Applications on the Mac OS X platform can be applied to the mobile platform with no compromise, considering though whether the developer chooses to do so.
If Remote Disc from the MacBook Air is impressive, Parallel developed for the MacPad will completely take your breath away. Once paired with a Mac through Wi-Fi, this application exclusive on the MacPad can be used as a mobile touch display wirelessly accessing your desktop computer. This means that you have a complete access to all the information and computing power when and wherever possible, without the drag from a device of equivalent capability.
If the MacPad is accessible to an assigned local wireless network, it could very well start syncing any updated information wirelessly to and from your Mac. Whenever you or your MacPad needs a rest, place the device on the elegant desktop dock to begin charging. While you take your much deserved break the MacPad not only automatically syncs any updated information, the device can also be used as a secondary touch display for your desktop. The possibilities here are quite endless."
This is not an official product of Apple Inc..
1. Featured on Desktop Vibes; shout-out to Garrett Ellington.
2. More Apple concepts available on Flickr.
There are 3 comments.
I've never seen this before, but it looks really promising.

Too bad it'll probably cost $7000 + my left leg + my first newborn.

wow amazing stuff apple comes out with. Although i agree with Ruiz. Nice blog btw. Nice and clean. Love the font, what is it?

Great, as far as it can be used for full blown presentations from NATIVE Keynote and PowerPoint files. No more than 300 to 400 g or so.