"A little goes a long way."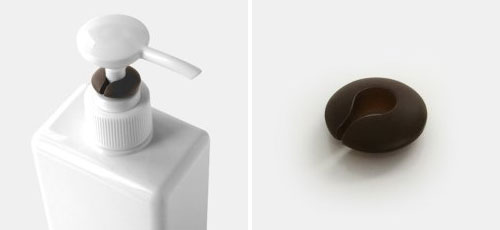 "The bottleneck saver is designed to be attached to liquid soap dispenser necks and restricts the amount dispensed in order to reduce unnecessary wastage in consumption. This is especially pertinent as the manufacturers of shampoos, liquid soap, lotions… have an incentive to encourage more rapid usage. A standard depressing of a nozzle may indeed yield more lotion/shampoo than is really necessary for the user. The bottleneck saver becomes a subtle mark of defiance in the face of more copious consumption patterns."
This design well deserves a second thought; minute ideas like this one can not only change the way we interact with everyday objects, but how these forms of interaction can be made sustainable, challenging consumptive behavior. It is a much worthy example that reminds us how "a little goes a long way"; sustainable design should relate and permeate intuitively to our ways of life and manner of living. There are a variety of products, for example those through the Future Friendly initiative, that inherently contemplates environmental demands, saving energy and reducing waste and packaging based upon the properties of the product itself. "Every small step towards a greater good can help preserve our world and prepare it for generations to come."
Looking for more simple ways to do your part in helping the planet? How about 50.
1. treehugger » orcadesign.
There are 2 comments.
i never push it all the way down :)

Then perhaps you are doing your part. There are many however, who do not take their rate of pre-defined consumption into thought, and this very device could potentially flag their behavior, and hopefully, induce change unconsciously.