The Kindle of the future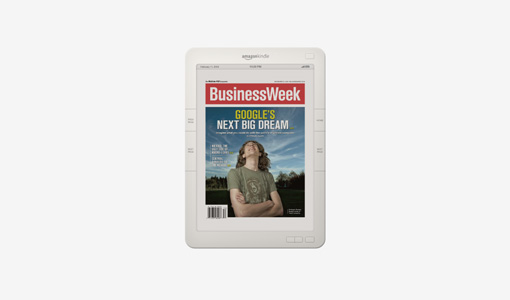 "The Amazon Kindle is a revolutionary product for publishing; the breakthrough device in bringing published content straight to your hands. It is an ultra-portable device capable of handling thousands of published content at just 0.35 inches thin, thanks to its incredibly sharp and beautiful color electronic-paper display with multi-touch. It snuggles perfectly in your hand just like a typical paperback, so you can read and turn pages with either hand using the page controls on both sides of the device. Whether it is newspapers, magazines, novels, textbooks, or RSS feeds, it delivers, quite literally.
When you wake up in the morning, the day's papers are delivered wirelessly to the device even before making the newsstands. Glimpse along the titles and flag whichever article interests you, then have the Kindle read them back to you using its text-to-speech feature during your commute. As you flip along the pages using intuitive gestures on the multi-touch display, the Kindle remembers exactly where you are, so if you happen to switch tasks, it can effortlessly bring you back where you left off.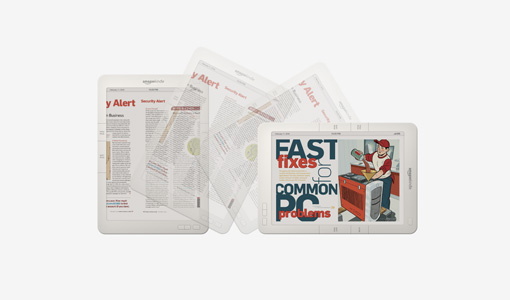 Start reading your magazine subscriptions while the rest of the pages are being downloaded wirelessly. Rotate the Kindle from portrait to landscape, and the built-in accelerometer detects the movement and changes the display accordingly, so you can read the full 2 page spread just like you're used to. Flag pages that interest you so you can re-visit them at a later time, or share an excerpt of the page to your friends and colleagues by email. Tired of handling stacks of textbooks to class? The Kindle weighs only 10.2 ounces, so don't let hassle get in your way of learning. But that's not all, search for words or excerpts throughout the content, or seamlessly look up dictionary definitions without having to interrupt your reading.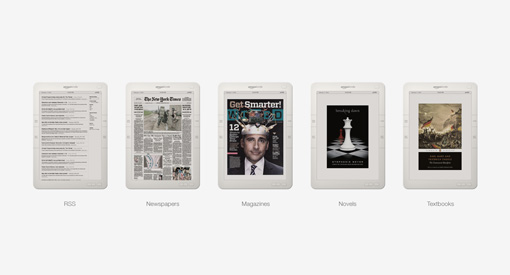 Search and shop at the Kindle Store right from your Kindle. The vision is to have every publishing material being printed, in every language, available on the Kindle store. This means that the content of your favorite author, newspaper, magazines and journals are available touches away. But that's not all. The Kindle lets you sample every title, so feel free to expand your interests and knowledge, simply browse the Kindle catalogue by popularity, reviews or recommendations, buy or subscribe right from the Kindle, and continue reading.
The Kindle does not only aspire to encourage digital distribution of published content; there is no printing or any logistics involved in digital distribution, meaning an immense reduction in environmental impact. Less consistent waste going to landfills, less carbon emissions going into the air, less resources consumed in productions and packaging, less deforestation, and of course more clean air for everybody."
This is not an official product of Amazon.
1. Inspired by the Amazon Kindle.
2. More product concepts available on Flickr.