The next-generation Apple Mouse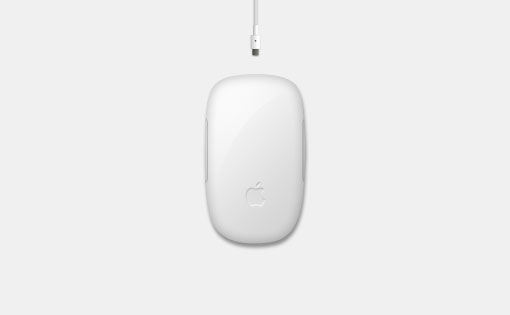 The next-generation Apple Mouse, the world's most advance mouse, and here's why. Our Apple engineers were able to bring Multi-Touch technology right onto the large Apple Mouse surface. That's right, you can now seamlessly scroll, pan, pinch, rotate and zoom, just like on our gorgeous Multi-Touch trackpads, right on the Apple Mouse. It is now a true multi-button mouse too, physically, thanks to its flexible top-shell. You can't see it, but you can certainly feel every left, right and middle-click. But that's not all. Activate Mac OS X Dashboard, Exposé or a whole host of other, customizable features instantly using the physical buttons on either side of the Apple Mouse, 4 in total. Form and function. And although this mouse is wireless, worry no more about replacing batteries either. The next-generation Apple Mouse connects through MagSafe at the front, so while it charges, you can keep using your Mac. With its secure, reliable Bluetooth technology, simply break the magnetic connector away, and you're wireless. Not to mention its precision laser tracking technology. Talk about innovating.
This is not an official product of Apple Inc..
1. More Apple concepts available on Flickr.
There are 3 comments.
I had a very similar idea but there is one critical flaw with your current design. Try to imagine actually using your mouse and you'll figure it out.

It shouldn't be something clever software can't solve. Physical buttons means that a large proportion of taps and holds can be ignored instructions.

I love your concepts, some of them are absolutely beautiful.

This mouse is a great idea, and as others, I had similar thoughts on how to get rid of the damn ball from the current Mighty Mouse.

But the MagSafe connector, although a brilliant idea, do you not think it could be a little pain on the occasions that you accidentally pull the cable out in operation? I know the mouse would keep working, but it's likely that during the switch from wired to Bluetooth, there would be a sudden jump or skip. Perhaps if the magnet was nice and strong this would be solved.

Either way, another brilliant concept, I'm now following your feed for more :D