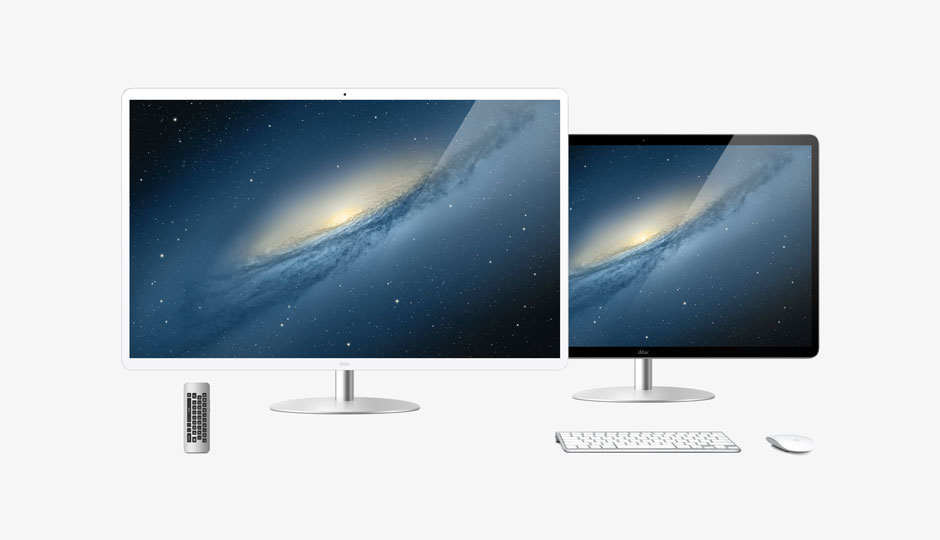 The next-generation iMac
The next-generation iMac, with Multi-Touch, Retina display, Siri, motion recognition, and OS XI; this is the future of the home computer.
Introducing the next-generation iMac with OS XI, an operating system built on the basis of reducing the sophistication of technology to basic human interactions; touch based interactions through Multi-Touch, and intelligent voice assistance through Siri, both introduced on the iPhone that revolutionized the mobile industry. But that's not all. The built-in FaceTime HD camera now recognizes motion based gestures, so beyond touch and voice interactions, the next-generation iMac will be able to interpret and understand you in three-dimensions, taking the experience of interacting with technology to a completely new and natural level.
The next-generation iMac is available with 23-inch and 29-inch Retina displays, with edge-to-edge glass, and a super-thin bezel. Everything looks unbelievably sharp and vibrant, and you'll be completely immersed in the Multi-Touch experience. OS XI is also a completely resolution independent operating system, which means that what's on-screen will also be freely and automatically scaled, depending on how close you are, to make use of the ultra-high resolution display. Text is razor-ship, colors are richer, photos are life-like; everything looks and feels incredibly natural and perfectly detailed. When all you see is the display, nothing gets between you and what's on-screen.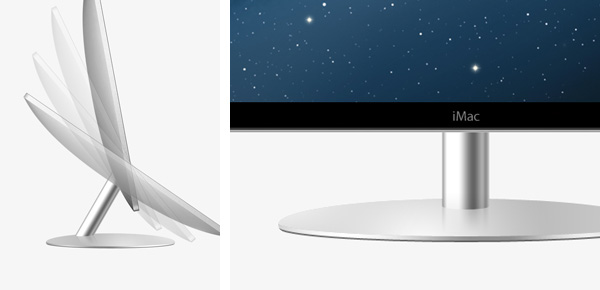 "Our Apple engineers have also developed a spectacular hinge mechanism that allows the computer to be tilted from an up-right to a more natural near-flat angle…"
The back of the next-generation iMac features a new seamless, precision-forged enclosure that is impossibly thin, more than 50% thinner from the edge than the previous generation. From every angle it looks absolutely stunning, floating on a single aluminum arm and pivots on the solid aluminum base. Our Apple engineers have also developed a spectacular hinge mechanism that allows the computer to be tilted from an up-right to a more natural near-flat angle, making it much easier to touch and interact with. The hinge mechanism can also be removed and replaced with a wall-mount bracket, so what is the desktop computer can also be placed as the new digital hub in your living room.
The next-generation iMac and OS XI is also all about interpreting natural interactions. The FaceTime HD camera will recognize who's in front of the computer and set the right user. You can also ask Siri to get things done. For example, you can ask, "What's the latest headlines on CNN?". It understands you are looking for news headlines from CNN, and takes you to their homepage in Safari. Siri is also smart in recognizing your nearby devices, for example, say you're in the middle of an article but you're about to head out, if you have your iPad connect on the same network, you can simply ask Siri to "Show this webpage on my iPad." and off you go.
Besides human interactions, there's always the option to go back to the traditional keyboard and mouse, or if you want to sit back and relax, you can also use the incredibly powerful Magic Remote. Though you'll be further away from the computer, everything will still be readily accessible at your fingertips.
This is not an official product of Apple Inc.. Apple, iMac, Multi-Touch, Siri, iPhone, FaceTime, and other trademarks mentioned on this page are property of their respective owners.
1. More Apple concepts available on Flickr.
2. Kinect Effect, xbox, YouTube.
There are 2 comments.
If, looks perfect is that there will be a great job with the new imac after all are the heirs of steve joes

5 years pass, this kind of Mac haven't shown up.